Kavli performance reminiscent of old Las Vegas showbiz
CONCERT REVIEW /// 'Rat Pack Christmas'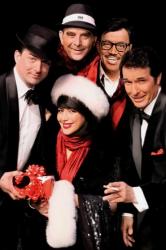 SIXTIES PALS—Clockwise from left: Angelo Babbaro, Sandy Hackett, Kenny Jones, Tom Wallek and Lisa Dawn Miller in "Rat Pack Christmas." "Sandy Hackett's Rat Pack Christmas," which played for a single performance Dec. 5 at the Fred Kavli Theatre in the Thousand Oaks Civic Arts Plaza, pays tribute to the freewheeling, cigarettes-and-tuxedo glamour of old Las Vegas.
Holding court at the Copa showroom at the Sands Hotel in the early 1960s were its central figures: Frank Sinatra, the titular Chairman of the Board; Dean Martin; Sammy Davis Jr.; and Joey Bishop. The Copa's peak years came during the JFK administration, before Elvis took over the city with his glitzy, souvenir-laden spectaculars at the Las Vegas Hilton.
Where's the story?

4 Points Mentioned
In 2002, Hackett, son of the late marble-mouthed comedian Buddy Hackett, himself a Vegas lounge mainstay, created this tribute, and in 2009, Sandy Hackett and his wife, Lisa Dawn Miller, revamped and improved it.
Hackett, who plays Bishop in the show, has done well casting the other members of the Rat Pack: Angelo Babbaro as Sinatra, Tom Wallek as Martin and Kenny Jones as Davis. They are like Audio-Animatronics replicas of the real thing.
Babbaro has Sinatra's fingersnapping swagger down pat, while Wallek nails Dino's boozy casualness and Jones is the essence of Davis' constantly in-motion physical genius. Hackett has done a remarkable job replicating Bishop's dour, stone-faced comic delivery.
"Rat Pack Christmas" is basically Hackett's regular touring show modified to accommodate the holiday season. The quartet appears together in a few opening numbers before they each go solo for the bulk of the first act.
In Act 2, they come together once again, joined by Miller, who plays a composite character called "Frank's One Love," loosely based on Ava Gardner but resembling no specific performer.
Signature songs are represented in each of the singers' spotlight segments: "That's Amore" for Martin, "The Candy Man" for Davis and "My Way" for Sinatra.
But it's Hackett who stands out the most, just by being very, very funny. Even without the Bishop voice, Hackett's jokes are better than anything you will hear on late night TV, where teams of writers crank out one-liners that barely rate on the laugh-o-meter.
Many of the jokes are Vegasribald and politically incorrect, poking good-natured fun at ethnic groups like Indians, Chinese, Jews and blacks, without the sense of meanness that developed later in the '60s.
Hackett makes a point of customizing his routine to whatever locale they are playing, and Thousand Oaks was the subject of a running gag that he took advantage of at every turn.
Babbaro's Sinatra is the best of the three singers. The Ohio native has made a lifelong study of Ol' Blue Eyes, and although he doesn't resemble Sinatra physically, his voice and impeccable phrasing are frighteningly close to the real thing.
As Martin, Wallek is best when singing in Dino's lazy baritone, but when he speaks, it sometimes sounds like Johnny Carson doing an impression of Dean Martin.
Jones is dynamic as Davis. Like the person he portrays, Jones is a five-tool entertainer, able to sing, dance, do comedy and impressions, and play drums.
Except for a scene with Babbaro, Miller doesn't interact with the Pack; she sings well with a strong, powerful Vegas voice, a modern-day Eydie Gormé, using her own songs as well as those of her late father, Ron Miller ("For Once in My Life").
Although "Rat Pack Christmas" is solid entertainment, watching it is a wistful experience. The performers sing like the Rat Pack, they clown around like them, and, if you squint, they even resemble them, but the soul, the essence and the singular personalities that made these entertainers so fabulous can never be duplicated.
Fortunately, Hackett realizes this, and we thank him for reminding us to remember how great these giants once were.