Sandy Hackett's Rat Pack Christmas Invokes Family Ties in Homage to Classic Icons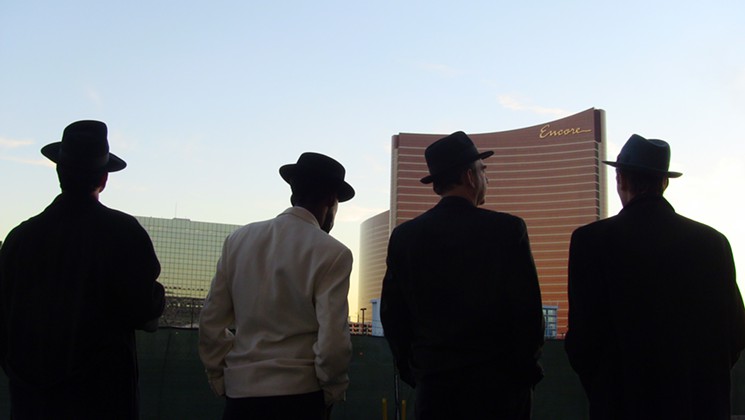 EXPAND
The Rat Pack comes to Fort Lauderdale on December 22.
Courtesy of Hackett Miller Company Inc.
For the fourth time in a row, Sandy Hackett and his wife Lisa Dawn Miller Hackett are bringing Sandy Hackett's Rat Pack Show to the Parker Playhouse for the holiday season. In a conversation with New Times, the couple spoke on what we can expect from the show, affirming that rather than a tribute dedicated to the legendary performers Frank Sinatra, Dean Martin, Joey Bishop, and Sammy Davis Jr. this is a musical theater performance telling the story of four close friends who brought magic to the stage.
"Christmas is the time of year you want to feel good about stuff," Sandy said, "and who better to make you feel good singing songs and bringing a party to you than Frank Sinatra, Sammy Davis Jr., Dean Martin, and Joey Bishop? ... The spirit of this show is showing the friendship, love, and camaraderie of four friends."
Sandy plays Joey Bishop and Lisa plays Sinatra's love interest in memory of Ava Gardner. The show includes comedy, musical performances, and dancing, and includes many of the classic Rat Pack songs, hits each icon recorded, Christmas tunes, and two new, original songs from Lisa: "It's Christmas" and "My Favorite Time of Year." In addition, their nine-year-old daughter Ashleigh Hackett is dancing with the character of Sammy Davis Jr. to the song, "The Candy Man."
Both Sandy and Lisa have strong ties to the Rat Pack, which makes the show extra special. Sandy's father was comedian Buddy Hackett, and Lisa's father Ron Miller wrote a lot of the hit songs Sinatra, Martin, and Davis recorded, including "For Once in My Life." Sandy was also close friends with Joey Bishop before he passed away in 2007.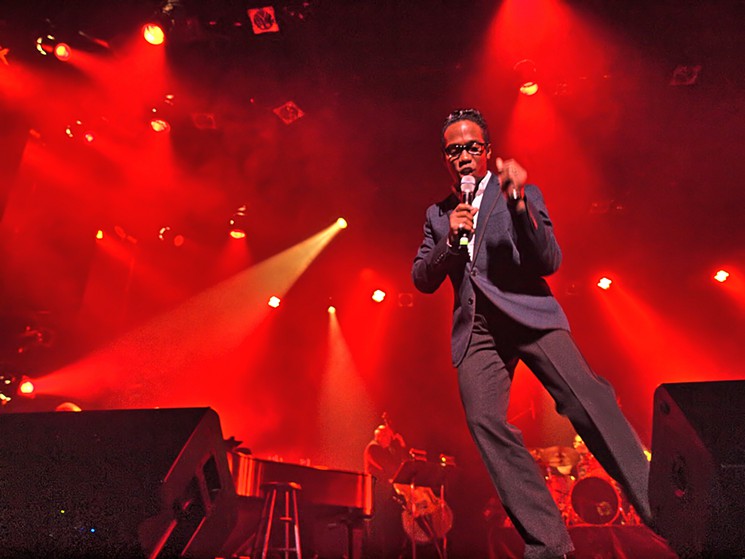 EXPAND
Kenny Jones as Sammy Davis Jr. in Sandy Hackett's Rat Pack Christmas.
Courtesy of Hackett Miller Company Inc.
"Joey Bishop was a family friend, and years ago when they did a movie about the Rat Pack, Joey called me and thought I would be the right guy to portray him," Sandy said. "I knew him personally for many years and then I worked with him professionally on a game show he was trying to develop, so because of that relationship he felt like I would be the best guy to play him. It's wonderful to pay homage to him and to have a little fun with some of the greatest talent to ever walk the stage."
Lisa also has memories of her father writing his hit songs and wants to continue his legacy by writing, producing, and performing music. When he passed away, Lisa found a bunch of songs he wrote that no one had ever heard, so she decided to put them in the show.
"I think he set the standard really high," she said. "The lyrics that were written back then, and most of the writers at that time, wrote really quality music and lyrics. And I think that's one of the reasons the music endures, because people can still sing along and they are emotionally attached to it. There is something they have connected to, and most of the lyrics are timeless."
Sandy said he grew up knowing the Rat Pack as just his dad's friends, and it wasn't until he was older that he realized who they really were. Since Lisa's father wrote the songs they recorded, Sandy says it was kismet that the two of them got together and fell in love. They have plans to continue doing the show every year, and they also have a new musical comedy in the works that they will announce in January. Lisa also just released her Christmas CD, It's Christmas, and she's getting ready to release another album, Hello You.
"It really is an honor to pay tribute to the people who were so important in our lives, both personally and professionally," Lisa said. "It's a lot of fun, and I think the reason our show works is because we are all really great friends, and each time we get on the stage we have fun—just like those guys did back in the day."
Sandy Hackett's Rat Pack Show
8 p.m. Tuesday, December 22, at Parker Playhouse, 201 SW 5th Ave. Fort Lauderdale. Tickets cost $37.50 to $57.50 plus fees via.

Use Current Location
Related Location
707 NE Eighth St.
Fort Lauderdale, FL 33304
Get the Music Newsletter
Keep your thumb on the local music scene each week with music news, trends, artist interviews and concert listings. We'll also send you special ticket offers and music deals.